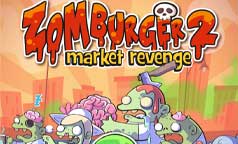 Zomburger 2: Market Revenge
Zomburger 2: Market Revenge
Gameplay
Get ready for an undead feast with Zomburger 2: Market Revenge! The hungry zombies are on the prowl, and it's your job to defend yourself using an arsenal of diverse weapons. In this thrilling online game, you'll enter a chaotic world of culinary combat, where your survival depends on your ability to create insane combos that rake in the cash.
As you fend off hordes of ravenous zombies, you'll earn money that allows you to unlock even more incredible and lethal weapons. From flaming spatulas to electrifying meat cleavers, your choices are boundless.
Zomburger 2: Market Revenge is your ticket to an adrenaline-pumping, action-packed adventure that'll keep you hooked for hours. It's not just about defending yourself; it's about having a blast while doing it. So, roll up your sleeves, sharpen those knives, and prepare for a non-stop thrill ride. It's time to turn the tables on the hungry undead in the most deliciously chaotic way possible. Just remember to have fun, and keep those combos sizzling!