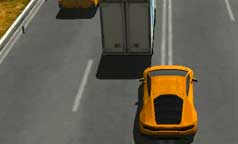 Traffic Racer
Traffic Racer
Gameplay
Get ready to rev your engines and hit the open road with Traffic Racer, a thrilling online game that challenges players to race through busy city streets, dodging traffic and racking up points as they go. The gameplay involves navigating through a variety of challenging levels, each with its own unique obstacles and hazards. With intuitive touch controls, players can easily steer their vehicles, speed up, and slow down to avoid collisions and keep their score climbing higher and higher.
Description:
Take on the ultimate driving challenge with Traffic Racer, an adrenaline-fueled game that puts your skills behind the wheel to the test. With a variety of different vehicles to choose from, each with its own unique handling and speed characteristics, you can customize your driving experience to suit your style. From sleek sports cars to powerful trucks, there's a vehicle for every type of driver.
But be warned - the road ahead is filled with dangers, from oncoming traffic and unexpected obstacles to treacherous weather conditions. With each level offering new challenges and obstacles to overcome, Traffic Racer is a game that will keep you on the edge of your seat. So buckle up, hit the gas, and get ready to race your way to the top of the leaderboards!