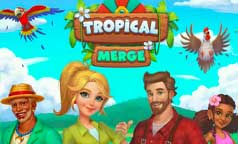 Tropical Merge
Tropical Merge
Gameplay
Tropical Merge is a colorful and addictive puzzle game that transports players to a tropical paradise. The goal of the game is to merge identical items, such as coconuts and flowers, to create new and more valuable items. Players must strategically move and combine items to earn points and progress through increasingly challenging levels.
Explore a Vibrant Island World
Tropical Merge immerses players in a stunning and lively island environment, complete with palm trees, sandy beaches, and crystal-clear waters. As players progress through the game, they will unlock new areas of the island and discover hidden treasures. With its relaxing music and charming graphics, Tropical Merge offers a tropical escape for players of all ages.