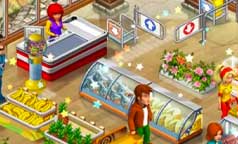 Supermarket Mania
Supermarket Mania
Gameplay
Supermarket Mania is a fast-paced and addictive online game that puts players in the shoes of a supermarket manager. The gameplay revolves around running a successful supermarket, from stocking shelves and checking out customers to managing employees and handling finances. With its intuitive controls and challenging levels, Supermarket Mania is a game that will test your skills and keep you on your toes.
Build Your Own Supermarket Empire
In Supermarket Mania, players start with a small grocery store and must work their way up to become a retail tycoon. They must keep customers happy by stocking popular items and offering excellent customer service, all while keeping track of inventory, finances, and employee schedules. With each level, the challenges become more difficult, but the rewards become greater as players expand their supermarket empire. With colorful graphics, fun characters, and addictive gameplay, Supermarket Mania is a game that will keep you coming back for more. So, put on your manager's hat and get ready to build your own supermarket empire!