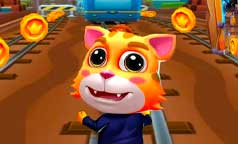 Cat Runner
Cat Runner
Gameplay
Cat Runner is a fast-paced online game that will have you running, jumping, and dodging obstacles as you race through a vibrant and colorful world. In this game, you play as a brave and agile cat who must navigate through various levels filled with challenges and dangers.
Your goal is to collect as many coins as possible while avoiding obstacles such as cars, trucks, and other hazards. As you progress through the game, the levels become increasingly challenging, with new obstacles and enemies to overcome.
Features and Graphics:
Cat Runner features bright and colorful graphics that will delight players of all ages. The game is set in a variety of environments, including city streets, forests, and beaches, each with its own unique look and feel. You'll love the cute and charming design of the cat character, as well as the playful animations and sound effects.
The game also offers a range of power-ups and upgrades to help you along the way, such as speed boosts, shields, and extra lives. And with leaderboards and achievements to compete for, there's always a new challenge to strive for.
Cat Runner is a fun and addictive game that's perfect for anyone who loves a good platformer. So why not put on your running shoes and see how far you can go?