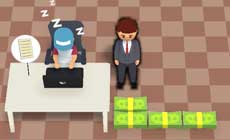 Startup Fever
Startup Fever
Gameplay
Embark on an exhilarating journey into the cutthroat world of entrepreneurship with Startup Fever! In this online game, you will test your business acumen and strategic thinking as you build your own startup empire from scratch. Dive into a virtual economy teeming with opportunities, where every decision you make can make or break your company's success.
Unleash Your Inner Visionary
Startup Fever is a captivating online game that immerses players in the thrilling and ever-evolving world of startups. Begin by choosing your industry niche and develop a unique product or service that meets the demands of a dynamic market. From there, it's all about making critical decisions to grow your business, secure funding, and outshine competitors.
Navigate through the challenges of resource management, marketing campaigns, and team recruitment. Will you lead with innovation, disrupting the market with groundbreaking ideas? Or will you focus on shrewd business strategies, carefully analyzing market trends to make strategic moves?
As you progress, you'll face real-world obstacles like funding rounds, scalability issues, and the occasional PR crisis. Will you conquer these challenges and become an industry tycoon, or will your dreams of success crumble under the weight of intense competition?
Collaborate with friends or go head-to-head against other players in fierce multiplayer mode, where only the most cunning entrepreneurs will rise to the top. Gain insights from experienced mentors, attend industry conferences, and forge strategic partnerships to propel your startup towards unprecedented heights.
Startup Fever offers a visually stunning and highly immersive gameplay experience, with realistic market dynamics and a rich ecosystem of possibilities. Are you ready to unleash your inner visionary and create the next big thing in the business world? The startup fever awaits!