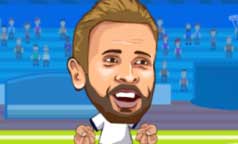 Football Legends
Football Legends
Gameplay
Football Legends is an exciting online game that puts players in the shoes of their favorite soccer stars. With its fast-paced gameplay and intuitive controls, Football Legends is the perfect game for soccer fans of all ages. Players can choose from a variety of game modes, including one-on-one matches, tournaments, and mini-games, each with its own unique challenges.
Take Your Soccer Skills to the Next Level
In Football Legends, players can choose from a roster of legendary soccer players, each with their own unique strengths and abilities. They can play against the computer or challenge their friends in multiplayer mode. With a range of customization options, players can personalize their soccer star's appearance and skill set, making each game a unique experience.
From dribbling past defenders to scoring the winning goal, Football Legends offers players a chance to showcase their soccer skills and become the ultimate soccer legend. With its addictive gameplay and exciting challenges, Football Legends is the perfect game for soccer fans who want to take their skills to the next level. So, lace up your cleats and get ready to score some goals – the world of soccer awaits!