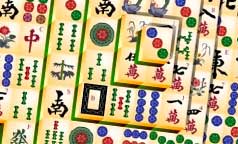 Mahjong Titans
Mahjong Titans
Gameplay
Mahjong Titans is a classic tile-matching game that challenges players to clear the board by finding and matching pairs of identical tiles. The gameplay involves strategically selecting tiles that are not blocked by other tiles and don't have any other tiles on top of them. With multiple levels of increasing difficulty, players must use their observation and strategy skills to clear the board and advance to the next level.
Description:
Get ready to put your matching skills to the test with Mahjong Titans, a timeless game that has been enjoyed by players around the world for generations. With stunning graphics and intuitive gameplay, this online version of the game is sure to provide hours of fun and entertainment.
The objective of the game is simple - match identical tiles to clear the board. But with each level offering new challenges and obstacles, Mahjong Titans is a game that will keep you coming back for more. From selecting the right tiles to creating strategies to clear the board quickly, there's always something new to learn and discover.
And with multiple levels of difficulty to choose from, players of all skill levels can enjoy the game at their own pace. So whether you're a seasoned mahjong player or just looking for a fun and challenging game to pass the time, Mahjong Titans is the perfect choice.