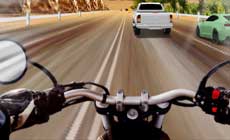 Traffic Rider
Traffic Rider
Gameplay
Get ready for an adrenaline-fueled ride through the bustling city streets in Traffic Rider! This action-packed online game offers an immersive motorcycle racing experience like no other. Take control of your powerful bike and navigate through a variety of challenging environments, from congested urban roads to scenic highways.
Feel the rush as you weave through traffic, dodging cars and trucks with precision and skill. The realistic physics engine ensures every movement and maneuver feels authentic, making each ride a heart-pounding adventure. Tilt your device or use intuitive touch controls to steer your bike, and unleash the throttle to unleash raw speed.
Customize and Upgrade Your Ride
Take your racing prowess to the next level by customizing and upgrading your motorcycle. Earn coins and unlock a vast range of bikes, each with its own unique attributes and performance characteristics. From sleek sport bikes to rugged cruisers, find the perfect machine that suits your style.
Invest in upgrades to enhance your bike's speed, acceleration, and handling. Equip it with powerful nitro boosts to leave your rivals in the dust. Unleash your creativity with a wide selection of paint jobs, decals, and accessories, allowing you to personalize your ride and make a statement on the road.
Traffic Rider offers an electrifying and immersive motorcycle racing experience that will keep you hooked for hours. With its realistic graphics, challenging gameplay, and a myriad of customization options, it's the ultimate game for all racing enthusiasts. Get ready to conquer the streets and become the ultimate Traffic Rider!