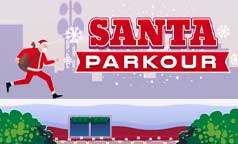 Santa Parkour
Santa Parkour
Gameplay
Santa Parkour is an exhilarating online game that takes you on a wild, festive adventure with none other than Santa Claus himself! Prepare to embark on a thrilling parkour journey through enchanting winter landscapes, snow-covered rooftops, and twinkling cityscapes, all while showcasing your acrobatic skills and spreading holiday cheer.
Dive into the role of Santa Claus and leap across rooftops, swing from candy cane poles, and dash through frosty obstacles in this fast-paced platformer. The intuitive controls allow you to perform gravity-defying jumps, wall runs, and flips, making every move feel like a magical spectacle. Time your actions perfectly to avoid treacherous gaps, mischievous snowmen, and other challenging hazards that stand in your way.
As you progress through the game, you'll unlock new levels that test your reflexes and push your parkour abilities to the limit. Discover hidden presents along the way to earn special power-ups, like temporary invincibility or a speed boost, adding an extra layer of excitement to your journey.
With its vibrant visuals, delightful sound effects, and captivating music, Santa Parkour immerses players in a whimsical winter wonderland. Challenge your friends to beat your high scores and compete for the title of the ultimate Santa Parkour champion, or take on timed challenges to see how quickly you can complete each level.
Get ready to experience the thrill of the holidays like never before in this unique blend of parkour and festive cheer. Santa Parkour is the perfect game to ignite your holiday spirit and spread joy as you flip, jump, and bound your way through an enchanting world filled with snow, surprises, and endless adventure.
So don your red suit, grab your bag of gifts, and join Santa Claus in this exhilarating parkour escapade. It's time to show off your agile moves and prove that you have what it takes to become the ultimate parkour master of the holiday season!