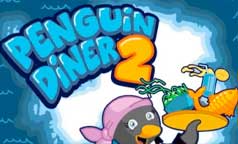 Penguin Diner 2
Penguin Diner 2
Gameplay
Welcome to the frosty and bustling world of Penguin Diner 2, where you'll dive into an enchanting online gaming experience that combines time management, strategy, and adorable penguin characters. This sequel to the beloved Penguin Diner takes you on an exciting culinary journey as you join Penny the penguin in her quest to transform a modest diner into a thriving restaurant empire.
Set in a whimsical Antarctic setting, the gameplay revolves around managing your very own diner, which caters to a diverse range of quirky and charming animal customers. As Penny, your task is to seat the customers, take their orders, serve their meals, and ensure they leave with smiles on their faces and bellies full. The catch? You must do all this while managing limited time and resources, adding an exhilarating level of challenge to the game.
Unique Features:
Dynamic Environments: Penguin Diner 2 boasts an array of visually stunning and interactive environments. From the cozy igloo dining area to the icy outdoor terrace, each setting is meticulously designed to immerse players in the delightful world of penguin hospitality.

Upgrade and Customize: As you progress through the game, you'll have the opportunity to upgrade your diner's facilities and decor. Add new tables and chairs, install entertainment for your waiting customers, and enhance the overall ambience to keep them coming back for more.

Special Customer Abilities: Prepare to be charmed by the special abilities of your animal patrons. Some customers may be able to tolerate longer wait times, while others might have a higher tipping rate. Tailoring your service to these unique traits adds an extra layer of strategy and engagement.

Culinary Creativity: Penguin Diner 2 offers a diverse menu with dishes that are sure to tickle your taste buds. From seafood delicacies to scrumptious vegetarian options, each order challenges you to coordinate preparation times and ensure the perfect meal reaches the right customer.

Time Management Mastery: The game tests your time management skills as you strive to accommodate an increasing number of customers with varying levels of patience. Juggling multiple tasks simultaneously, such as taking orders, serving food, and clearing tables, will put your multitasking abilities to the ultimate test.

Power-Ups and Boosts: Feeling overwhelmed? Penguin Diner 2 introduces exciting power-ups and boosts to lend you a helping flipper. Speed up food preparation, extend customer patience, and increase your earnings to stay ahead in the fast-paced gameplay.

Global Leaderboards: Compete against players from around the world to claim your spot on the global leaderboards. Rise through the ranks by earning high scores, completing challenges, and consistently delivering outstanding service.
Conclusion: Penguin Diner 2 isn't just a game; it's an enchanting journey into the heart of a whimsical penguin world. With its captivating gameplay, charming characters, and strategic challenges, this online experience promises hours of entertainment and a chance to prove your mettle as the ultimate penguin restaurateur. Are you ready to serve up smiles, satisfy appetites, and build a culinary empire in the coldest corners of the world? Dive into Penguin Diner 2 and embark on an unforgettable adventure that will warm your heart while keeping you on your toes!