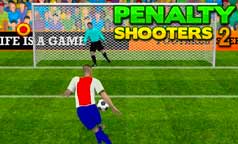 Penalty Shooters 2
Penalty Shooters 2
Gameplay
Penalty Shooters 2 is an exhilarating online sports game that puts you in the heart-pounding world of penalty shootouts. Prepare yourself for a thrilling soccer experience as you step onto the virtual field and take on the role of a skilled striker or a formidable goalkeeper. The game offers an immersive and highly addictive gameplay experience that will keep you hooked for hours on end.
As a player, you have the opportunity to showcase your precision, skill, and nerve as you attempt to score goals or save shots from some of the toughest opponents in the world. The mechanics of the game are simple yet challenging, allowing both casual players and seasoned gamers to enjoy the excitement.
When it's your turn to shoot, you'll be tasked with controlling the direction, power, and trajectory of your shot. Timing is key, as you must anticipate the goalkeeper's movements and aim for the perfect spot to outwit them. The pressure is on as the crowd roars, adding to the intensity of the moment. Will you be able to handle the nerves and find the back of the net?
On the other hand, if you're playing as the goalkeeper, you'll need lightning-fast reflexes and sharp instincts to make crucial saves. Dive left or right, jump, or stand your ground in anticipation of your opponent's shot. Every decision you make could be the difference between victory and defeat. Will you become an impenetrable wall, denying your opponents any chance of scoring?
Penalty Shooters 2 offers various game modes to keep you engaged. Challenge yourself in the Tournament mode, where you'll face progressively tougher opponents as you strive to win the championship. Or test your skills in the multiplayer mode, where you can compete against friends or players from around the world in intense penalty shootouts.
As you progress through the game, you'll earn coins that can be used to unlock exciting new features, including different stadiums, customization options for your players, and special power-ups that can give you an edge in crucial moments. Personalize your player's appearance and show off your unique style as you dominate the penalty shootout scene.
With its stunning 3D graphics, realistic physics, and immersive sound effects, Penalty Shooters 2 delivers a truly authentic soccer experience. The game captures the tension and excitement of penalty shootouts like no other, making each match a nail-biting affair. Whether you're a die-hard soccer fan or simply enjoy thrilling competitive gameplay, Penalty Shooters 2 is a must-play game that will keep you coming back for more.
Take your place on the field, showcase your skills, and rise to the top as the ultimate penalty shootout champion in this addictive online sports game. Are you ready to handle the pressure and become a legend? The fate of the game rests in your hands.