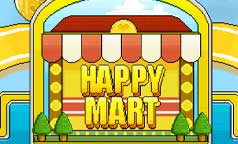 Happy Mart
Happy Mart
Gameplay
Step into the exciting world of retail entrepreneurship with Happy Mart – the ultimate online supermarket management game! Start by crafting your very own supermarket empire in one bustling city, then strategically expand your business to neighboring cities.
With complete creative control, design your dream supermarket by adding shelves, organizing products, and creating an inviting shopping atmosphere. As the manager, your goal is to maximize profits by attracting customers and optimizing your inventory.
Hire dedicated staff members to assist you in various tasks, from restocking shelves to running the cash registers. Stay on top of daily market trends to stock your store with the most in-demand products and boost the popularity of your supermarket.
Happy Mart offers a thrilling combination of strategic planning, financial management, and design creativity, making it the ultimate destination for gaming enthusiasts and business tycoons alike. Are you ready to embark on a retail adventure and build the supermarket of your dreams? Play Happy Mart now and watch your empire flourish!