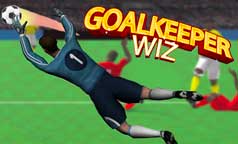 Goalkeeper Wiz
Goalkeeper Wiz
Gameplay
Step into the shoes of a legendary goalkeeper in Goalkeeper Wiz, an immersive online game that will put your reflexes, agility, and shot-stopping skills to the ultimate test. Get ready to become the hero between the posts and showcase your goalkeeping prowess to the world.
As the last line of defense, your primary objective is to stop the opposing team's relentless barrage of shots. Face off against skilled strikers from all around the globe as they unleash powerful shots, skillful dribbles, and cunning trick plays. Dive, leap, and stretch your way to spectacular saves, defying gravity and physics to keep the ball out of the net.
The gameplay mechanics are intuitive yet challenging, allowing you to anticipate the trajectory and speed of each shot. Position yourself strategically and time your movements perfectly to make fingertip saves, acrobatic leaps, and gravity-defying parries. The satisfaction of making a crucial save and hearing the crowd roar in appreciation is unparalleled.
Goalkeeper Wiz offers a variety of game modes to test your skills. Take on the thrilling Career mode and work your way up from amateur leagues to international tournaments, facing increasingly skilled opponents and tougher challenges along the way. Or dive into the intense multiplayer mode, where you can compete against friends or match up with players worldwide in adrenaline-pumping real-time matches.
Sharpen your reflexes and improve your technique through training drills and skill-building exercises. Master the art of reading your opponents, analyzing their shooting patterns, and predicting their next move. Unlock new gloves, outfits, and equipment to customize your goalkeeper and showcase your unique style on the field.
With stunning graphics, realistic physics, and immersive sound design, Goalkeeper Wiz brings the thrill and intensity of being a goalkeeper to life. Are you ready to step into the goal and become a legendary shot-stopper? The fate of your team rests in your hands. Prepare to be a Goalkeeper Wiz!