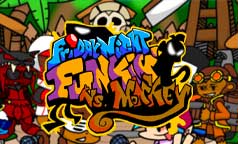 FnF vs Monkey
FnF vs Monkey
Gameplay
Step into the rhythmic battleground of FnF vs Monkey, where music and mayhem collide in an electrifying showdown. This unique online game combines the addictive gameplay of Friday Night Funkin' with a mischievous twist, introducing a charismatic Monkey as your dancefloor rival.
In this rhythmic duel, players must follow the beat, hitting the right keys to outperform the Monkey's funky moves. Expect challenging tracks that test your timing and precision, all while immersed in a vibrant and colorful world that echoes the retro charm of the original Friday Night Funkin' game.
As you progress, you'll unlock new songs and levels, each more exhilarating than the last. With its catchy tunes, clever choreography, and a charismatic Monkey to keep you on your toes, FnF vs Monkey delivers a fresh take on the rhythm game genre. Can you keep up with the Monkey's funky groove and conquer the dancefloor? It's time to find out in this one-of-a-kind musical showdown!