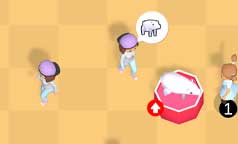 Biomons Mart
Biomons Mart
Gameplay
Discover Biomons Mart, an enchanting online pet shop adventure! Fulfill your dream of running a thriving pet paradise in this captivating pet shop simulation game. Immerse yourself in a world of adorable pets, from playful puppies to chirping birds, and create a welcoming haven for pet enthusiasts.
Nurture and care for a variety of pets to watch your store flourish, attracting happy customers in search of their perfect companions. Expand your store's offerings, unlock rare and unique pet breeds, and curate an environment filled with warmth and love.
Manage your finances wisely with each successful transaction and invest in marketing strategies to ensure a steady flow of customers. As your reputation grows, so does the joy within your pet shop.
Biomons Mart offers easy controls and a charming adventure, letting you unleash your inner pet lover and become the ultimate Pet Shop Tycoon. Experience the fulfillment of running a successful business and the joy of connecting pets with their forever homes. Wagging tails and fluttering wings await – embark on your pet shop journey today!